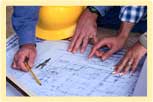 Start with the Finish: What would you like to have? Magazines, model homes, and designer showrooms are a great place to start. We recommend you consider the following:
COLOR ó Do you like lots of color or are you more conservative in your decorating? Does the architectural detail of your home lend itself to texture and movement, or softer finishes?
STYLE ó Do you like a warm, cozy feel or would a more formal approach fit the room and your living style?
CONTRAST ó If your furniture is patterned with stripes or plaids, for example, youíll probably want your walls softer, less textured. If your furniture and accents are single colored, you may want to jazz up the room with texture and movement. Once you find a finish that you like, find out who created the finish and get the artisanís name and number. A local designer or decorator may have names they can recommend. Your local paint store may also be a good source.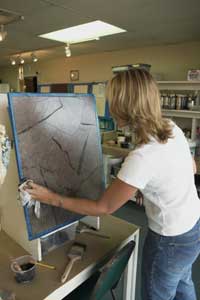 Training: Keep in mind that faux finishing is a profession and an art. The faux finish artisan should have a Certificate of Completion from a faux finish school, proving that he or she has had an education in the profession. Or the artisan should provide the name of the decorative artist under whom he or she served an apprenticeship.
Estimating Practices: There are many variables that make the artisanís job easier or more difficult. For instance, high ceilings require climbing a ladder or installing scaffolding and will increase the price, therefore the artisan needs to see the project in order to provide an accurate price. Beware the faux finisher who rattles off a price over the telephone sight unseen (invariably their price increases as the job progresses due to unknown variables). For more information visit Our Pledge.
Professionalism: When the artisan arrives at your home, he or she should maintain a professional demeanor. The artisan should have a full portfolio of professional looking samples for you to peruse and choose from. If the artisanís samples are sloppy, you can bet that his or her work will be sloppy as well.
Excellent Communication: Make sure you feel completely comfortable with the artisan. Communication should be open & comfortable. The artisan should listen to your ideas and give you direction without being pushy.
Insurance: The faux finisher should provide you with a copy of their general liability insurance which covers any breakage or damage while the artisan is working in your home. You can bet that the artisan working with no liability insurance will disappear, leaving you with the repairs.